URGENT APPEAL OCTOBER 2021 - A MAJOR PROJECT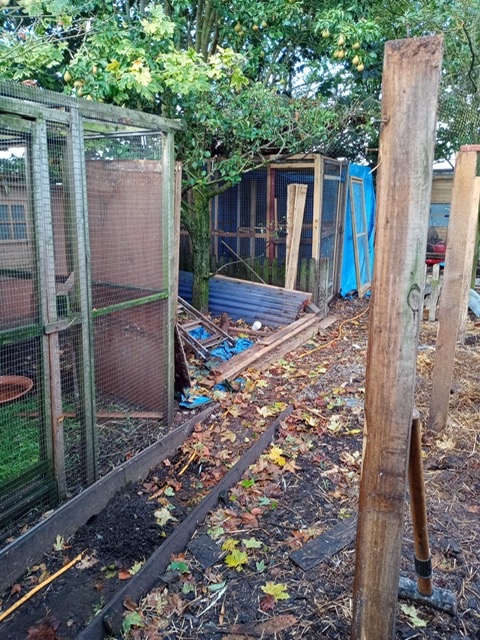 Our long-term fosterer Carol is a wonderful person and as dedicated as anyone can be. Carol has always taken on many birds and small mammals who cannot be released to the wild for various reasons but whom we believe can still have a good life. She has devoted a huge part of her garden to a very large aviary and many other enclosures so that these animals - and particularly birds as these are the ones she has the highest number of - can have a rewarding life in enclosed circumstances.

The time has come, after 17 years, for all the structures to be replaced. They have been repaired many times and it is not feasible to try and prolong the life of these enclosures any longer.

The whole enterprise is going to cost many thousands of pounds, and we are therefore launching a special appeal for this project. It is already underway, but we do urgently need more funds to complete the project.

We are acutely aware that many people have been living under straitened circumstances recently, but we would be so grateful if you could make a donation towards the cost of this major project.

You will know that Little Foxes is not an organisation that continually asks for donations, as we wish to show respect for our followers and supporters and know they will always give as much as they can. But this time we do have to ask you specially to help us provide the very best we can for the animals. Please click here for ways to donate to Little Foxes.


To our kind supporters - AN APPEAL:

We don't like to ask at this difficult time but, as you will know, charities are suffering at the moment. Understandably, most donations are going to human charities, such as those for the homeless, and nobody would begrudge that. But we still have to feed our casualties and provide for their needs. We overwintered nearly 100 hedgehogs in 2019/20 and believe me, they eat their heads off! At present, and for some time, our outgoings are exceeding our income by quite a worrying margin. So would you please consider sending us a donation to help recoup the costs of all those hungry hedgehogs? Even £1 would be very much appreciated. Our heartfelt thanks to everyone who has already donated. We are so grateful for your support! Thank you very much, and please all take great care of yourselves.
Please click here for ways to donate to Little Foxes.
There are lots of ways you can help us to treat and rehabilitate the wild animals and birds in the care of Little Foxes.
Volunteer Your Time
We are always grateful for offers of help. Please contact us to explore the options available. Full contact details are on our
'Contact Us'
page.
................

Food
Bird seed

Mixed corn

Flaked maize

Rabbit mix

Hamster food

Tinned cat meat

Tinned dog meat

Cotton buds
Cotton wool
Latex gloves
Heat lamps

Housing/Transport
Wire carrying cages
Timber, wire mesh
Nails, screws, etc
Sheds
Hutches
Thank You!



Financial Contributions:


Wood shavings
Paper towel
Towels
Feed/Water dishes
Buckets
Feed bins
Sound Dustbins with lids

Envelopes
Writing paper
Postage stamps (new, unused)
Pens & pencils
Notebooks
Sticky note pads
Sellotape
Paper clips

Please bring or post items to:
Little Foxes
Cobb Hall Cottage
Back Way
Great Haseley
Oxon
OX44 7JS